Adele's first job was as a child actor in TV commercials at age 5. She was the mischievous child running up the beach to enthusiastically gobble up the hot dog straight off the grill. She never quite lost that quality as she continued to grow and see the world.
VOICE OF EXPERIENCE
One of Adele's favorite descriptions of her voice is "That wise, experienced woman who's done a lot of cool stuff!" This motif underlies her reads as the various faces of her voice express through the copy.
It can be fun, fascinating, cool, inspiring, very natural, or full of love and wonder for the mysteries of the world and great storytelling. Adele's voice can create for the listener a delightfully imaginative world in all kinds of surprising ways for many different kinds of copy.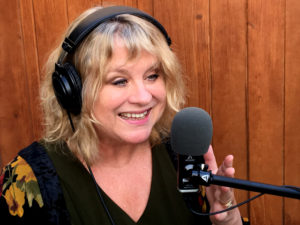 She studied acting and voice for actors and completed her MFA in Acting from Brooklyn College, CUNY. She's acted and directed in many theatres in NYC, Los Angeles, and in other cities. She's performed in TV and radio commercials and TV shows. She was honored to have performed in Shakespeare's play, Cymbeline at the renowned Shakespeare's Globe Theater in London.
She is also a Designated Linklater Voice Teacher and is a known Voice and Dialect Coach in Los Angeles. Adele has lived in many different places and has traveled in Europe, Asia, Central America, North America, and various island nations. She loves experiencing new places and cultures, meeting and talking with all kinds of people, and always enjoys a good adventure!
Click here to listen to demos.