Welcome!
Sometimes you need to say what you need to say.
It's all about VOICE here - from the artistic voice to the tangible voice, there are as many voices as there are sides of ourselves. And your voice contains them all.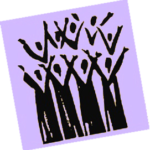 I like mining for voices - exploring, revealing, and bringing voices forward. Whether it's the voice of the narrator in a story, the voice of the characters who inhabit the story, the expressive voice of the actor or the powerful voice of the executive, the authentic self finds a way to come through the voice.
If you're interested in the human voice in all its manifestations, I invite you to click around the website. Read or listen to my fiction and demos. Or, if you want to work on your own voice, you can read about the classes and private voice sessions I teach. To find out about voice workshops and other events before they sellout, sign up for my newsletter. Follow me on social media, you can even buy my vocal warm-up and practice unlocking your own voice. But whatever happens, never lose sight of your voice.